Join bespoken and the International Contemporary Ensemble for a free online discussion focusing on the intersection of technology and art featuring Pauchi Sasaki and Quilla. How does technology and art come together in performance? How can artists discover, experiment, and take risks in the realm of digital collaboration and distribution?
For participants: please feel free to bring questions related to your own work/projects you are working on! This event is not only educational but also a platform for empowerment, breaking down the barriers to using technology in an artist's practice.
WHEN: Sunday October 4th, 2020. 2pm EST // 11am PT
RSVP HERE (free online event)
Watch the video recording here on Facebook.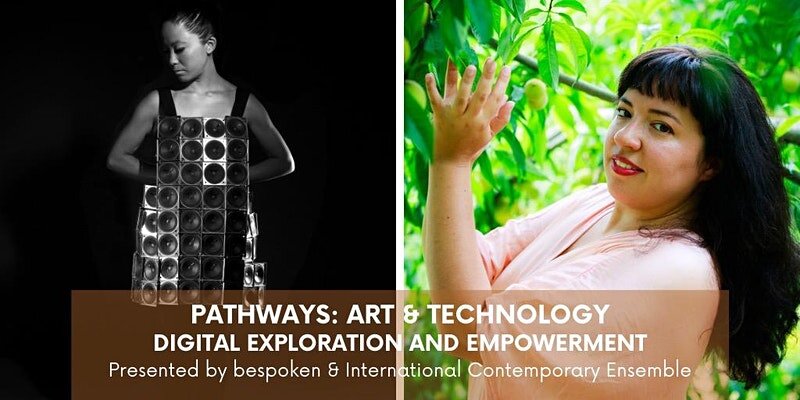 PAUCHI SASAKI
Composer, Interdisciplinary Artist, and Instrument Builder
She/Her/Hers. Website
Pauchi Sasaki is a composer, performer, and improviser. Her interdisciplinary approach integrates musical composition with the design of multimedia performances, the application of new technologies, and the development of self-designed instruments. She has received four "Best Original Score" international awards and the Ibermúsicas grant for sound composition with new technologies at CMMAS. She was selected for The Rolex Mentor and Protégé Arts Initiative by composer Philip Glass, the Goethe-Institute's artist residency in Brazil and Berlin, and Columbia University's Institute for Ideas and Imagination Fellowship. Her work has been presented at the Tokyo Experimental Festival, Venice Biennale, Carnegie Hall, Cannes Film Festival, Walt Disney Hall, MET, John F. Kennedy Center for the Performing Arts, among others.

QUILLA
Vocalist, Electronic Music Producer, Educator
She/Her/Hers
Quilla – the moniker of Montreal-born Anna Luisa Daigneault – is an electronic music producer, vocalist, songwriter and educator based in Greensboro, North Carolina. She is known for her ethereal soundscapes and vocal loop compositions as well as for teaching music production workshops for women. Recognized within the dance music community as a versatile vocalist and collaborator, she has written lyrics for Tiesto, Heatbeat, Sultan + Shepard, Feenixpawl, and many others. She was a featured vocalist on club tracks released by Universal, Revealed Recordings, Armada, Vicious, and Ministry of Sound. Her third album, The Handbook of Vivid Moments, was released in September 2020.