Johanna Breed's solo debut EP Is It Too Late? (Ritual Fire Records) was released worldwide on November 9th, 2018. It was written and performed by Johanna Breed and produced by Quilla, whose background in vocal production helped put Breed's vocal skills and unique lyrical style front-and-center.
Themes of confidence, joy, and control are expressed through Breed's lyrics and the upbeat, danceable tracks are balanced by others that are more introspective. Breed delivers gems such as "Mister," an anthem for warrior queens from the future, as well as the title track "Is It Too Late?" which explores anxiety in the age of accomplishment.
PRESS REVIEWS
"With minimalist neo-soul production, gospel-tinged piano, layered vocal harmonies, fingersnap backbeats and a warmth to Breed's singing, the record has a slinky exuberance. It's a mellow future-funk statement of optimism and uplift. " – John Adamian, YES! Weekly
"The results are impressive. The title cut from her debut EP (…) is saturated with funk interrupted by intervals of churchy organ riffs. Breed channels '70s-era sax soul…" – Go Triad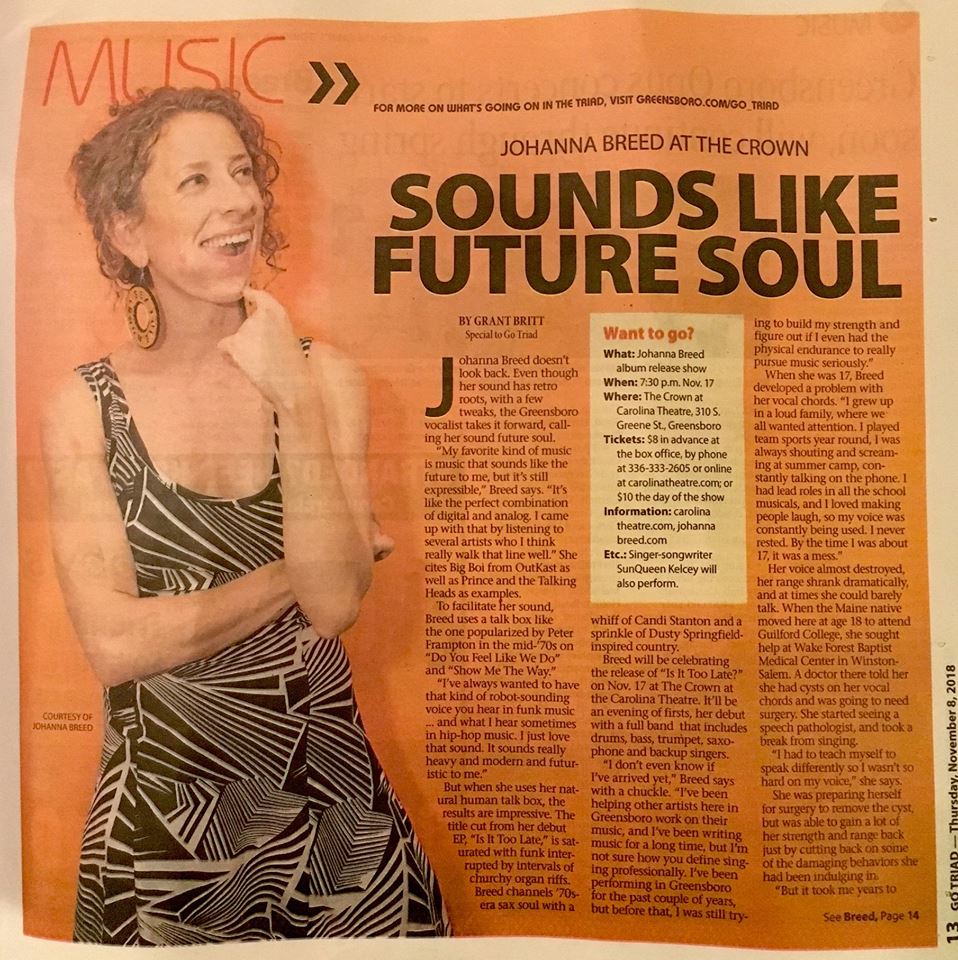 More On the Artist
Johanna Breed is a neo-soul pop artist from Greensboro, North Carolina. She blends analog and electronic elements to create a fresh sound that she calls "future soul." As showcased on her debut EP "Is It Too Late?" (Ritual Fire Records, 2018), her songs include beats, horns, synths, and layered vocals textured with talkbox. A multi-faceted performer whose strength lies in her powerful, expressive voice, Breed strives to create a sonic world that is uplifting and unexpected with vocal stylings inspired by her love of Soul, R&B, and Hip-hop.