Quilla's New Album "You Got It" is OUT NOW!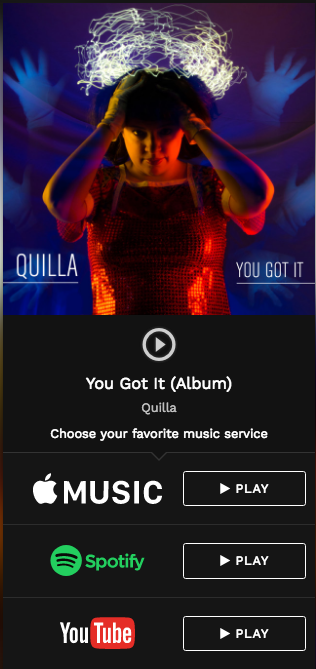 The album lures the listener into a world teeming with magical realism, vivid imagery, hypnotic beats and soothing vocals. Composed and self-produced while Quilla was pregnant, this electronic album explores a range of emotional states, from energetic catharsis to nostalgic contemplation. 
The music video for the title track "You Got It" is a unique collaboration between Quilla, dancer/director Sydney Vigotov, director of photography Adam Hulin, editor Sal Caino, and five-time World Champion body painters Scott Fray & Madelyn Greco of LivingBrush Bodypainting. A feast for the senses, the video features intricate body art.
UPCOMING PERFORMANCES
04/15/2017 | Album Launch at The Crown at the Carolina Theatre: 

310 S. Greene Street, Greensboro, NC 27401
Join Quilla & friends for a stellar evening of live electronic music at The Crown, located on the second floor of the historic Carolina Theatre in downtown Greensboro, North Carolina. Vocalist & producer Quilla will be performing her new album tracks accompanied by compelling visuals by Audra Stang, dancer Sydney Vigotov and jazz saxophonist Annalise Stalls. This event will also feature sets by Greensboro electronic artists Shefali (live performance) and Martin J. Dolan (DJ set).
Quilla will premiere two new music videos at the event: "You Got It" directed by North Carolina artists Sydney Vigotov and Scott Fray (see video above) as well as the music video for "The Collector" directed by Paula Damasceno, featuring fascinating archival footage from the Piedmont region.
Facebook Event   |   Buy tickets here
 04/20/2017 | Psychedelic Revolution Festival :  Mesmerizer Records, 290 E. 4th St. Winston-Salem, NC 27101
Join Quilla, Shefali and Power Animal for an inspiring show at the first annual Psychedelic Revolution Festival located in the Innovation Quarter of Winston-Salem. Facebook Event