NEW ALBUM
Quilla's latest album, The Handbook of Vivid Moments, beautifully weaves elements of her Latinx heritage with dance floor beats. This album uplifts listeners during a difficult time worldwide, and explores themes such as climate change and women's empowerment. The album is available on all platforms here: https://orcd.co/quilla_handbook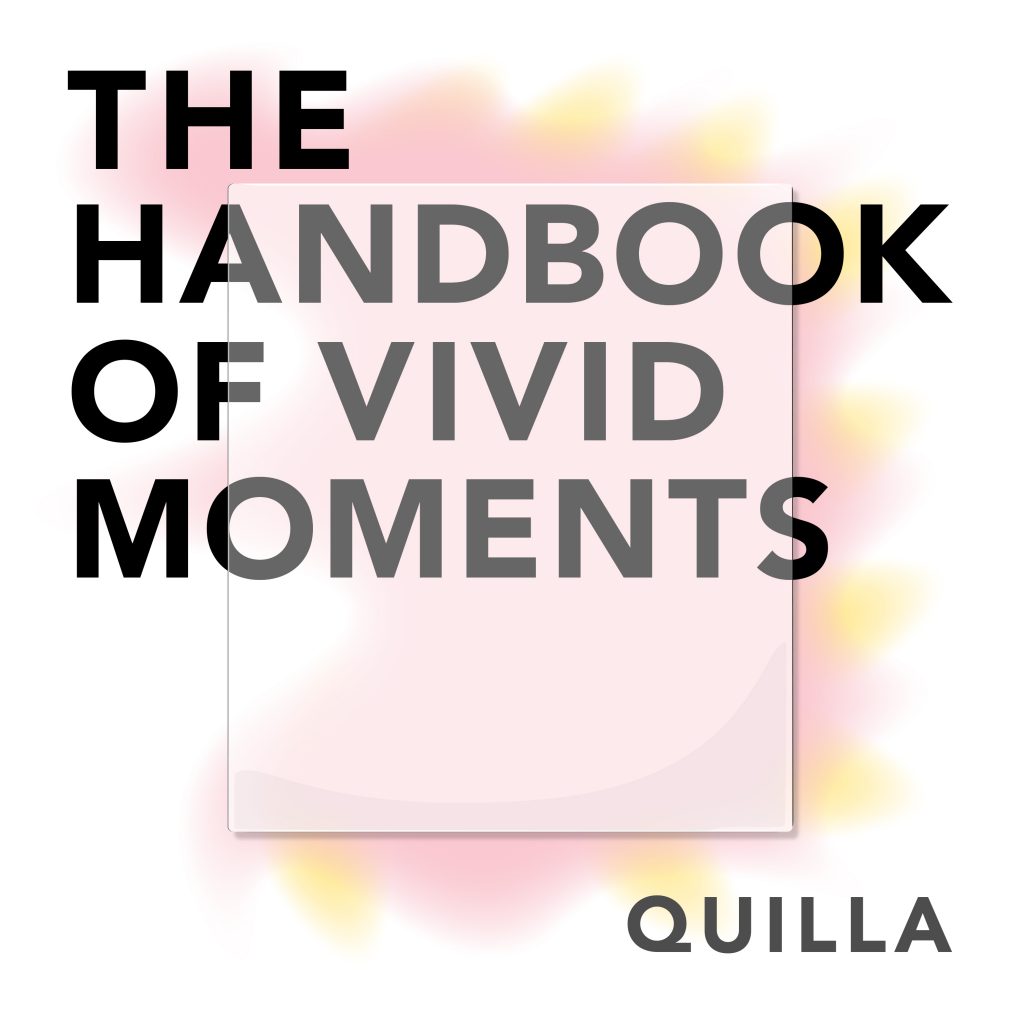 Buy | stream here
Quilla's third album was written and produced in her home studio in Greensboro, North Carolina. It was created with support from the North Carolina Arts Council and the partnering arts councils of the Regional Artist Project Grant Program (2021). Their support is gratefully acknowledged. The printing of physical albums was also made possible by an Artist Support Grant from ArtsGreensboro and the NC Arts Council in 2021.
ALBUM CREDITS
Music, lyrics, electronic production and mixing by Quilla
Vocal production by Quilla and Mike Garrigan
Violin on Track 5 by Kate Musselwhite Tobey
Mastering by Holger Lagerfeldt
Cover art by Marty O'Connor
ALBUM REVIEWS
"Mixing elements of heritage and genre in tune with body and space, The Handbook of Vivid Moments, the third record from Greensboro electro-artist, Quilla— the artistic persona from Montreal-born Anna Luisa Daigneault— serves as a vessel for expression and empowerment in a time of dystopia, laid amongst dance floor beats." – YES!Weekly
"The Greensboro musician and producer emphasizes biological cycles, family relationships and women's liberation in her music. And those themes stand out… [in] her most recent album, The Handbook of Vivid Moments. While the album features multilingual lyrics and ranges from dancehall beats to ethereal soundscapes, the electro-vocal tracks remain extraordinarily accessible. The welcoming groove is a product of Quilla's thorough checks on audio quality." – The State of Things (WUNC)
INTERVIEWS
Authority Magazine (April 2021)
Featured on The State of Things (WUNC Radio, Jan 2021)
Guest panelist, Pathways: Art & Technology (Oct 2020)
Featured in Yes!Weekly (Sept 2020)
Off the Beat podcast with Dr. Wally Wallace (Ep. 6, Dec 2018)
Artists at Work Podcast (Artstitution, Nov 2018)
Gate City Live Podcast (Oct 2018)
————————————————
VIDEOS
Around Town Sessions | Recorded live at Elsewhere Museum in downtown Greensboro, Quilla performed three songs for Around Town Sessions, a video series showcasing North Carolina musical talent.
---
BIT ROSIE | Quilla was featured on the latest episode of Bit Rosie, a documentary series that explores the home studios and creative processes of women and gender non-confirming music producers around the globe. Bit Rosie is produced, directed and edited by multimedia artist, musician and scholar Adele Fournet.
————————————————
SAGITTARIUS (MUSIC VIDEO)
Music video directed and produced by s/n (Jennida Chase & Hassan Pitts), in conjunction with the Media Studies Department at the University of North Carolina Greensboro. The track is available for streaming everywhere. Sagittarius was officially featured at multiple film festivals in in 2019 and 2020. See blog post below for the full list of festivals.
————————————————
TV APPEARANCE | Quilla was on UNC-TV / PBS (Public Media North Carolina) on May 2nd, 2019, during "MUSE: The Arts Show" which also included segments on A/V Geeks and Art-o-Mat. View full credits here.
————————————————