I was both thrilled and intrigued when I found out WUNC was creating a new podcast entitled "CREEP" about invasive species in North Carolina and beyond. Writing music for this project was a dream come true: the show brought together my interests in music production and science communication. It felt very synergistic and timely to me, because I had recently been making bird loops on Instagram. I thought writing this theme song would be a good opportunity to use the ambient nature and species recordings I had been collecting during the pandemic as textures in a composition.
Writing a theme song is part alchemy, part deep listening to the creative brief, part distillation of your collaborators' personalities. In my initial meeting with the producers of Creep, I asked them: what emotions do you want the listener to feel when they hear the theme song? What moods are you trying to convey? Their answers were: mysterious, subversive, dark, intriguing, tantalizing. Not a slasher pic, but unsettling. We want it to be simple yet ominous. I love a creative challenge and the mood felt ripe to make something that would suit this unique show.
I thought a prominent bass line would help translate the feeling of mystery. I had a lucky flash of insight while sitting at my piano soon after meeting the producers of CREEP. An early version of the bass line came spilling out onto my keyboard, very jagged and haunting. It felt like I was pulling it out of the ether. After a few more tries on piano and some quick recordings on my phone to not lose my initial palette of ideas, I came up with a solid version of the bass line and tempo, and then recorded it in Logic with various electronic instruments. I settled on layering a plucky upright bass with a warm analog synth. I produced four slightly different versions of the bass line before settling on the one you hear in the final version of the theme song, which is entitled "Dark Science."
It was really fun weaving in bioacoustic sounds into this piece. I asked the producers what species they would be covering, and collected some useful insect samples online as well from my nature trove. I experimented with many different sounds before deciding which insects and animals made the cut. The final version of theme song contains samples from: solepnosis invicta fire ants, the eastern screech owl, the cotesia marginiventris wasp calling song, cicadas recorded outside my window, other ambient layers recorded in my backyard as well as bioacoustic recordings I made near the Dan River in North Carolina. It was important to me to include as many native North Carolina sounds as possible, since the podcast focuses on invasive species found in North Carolina and the Southeastern US.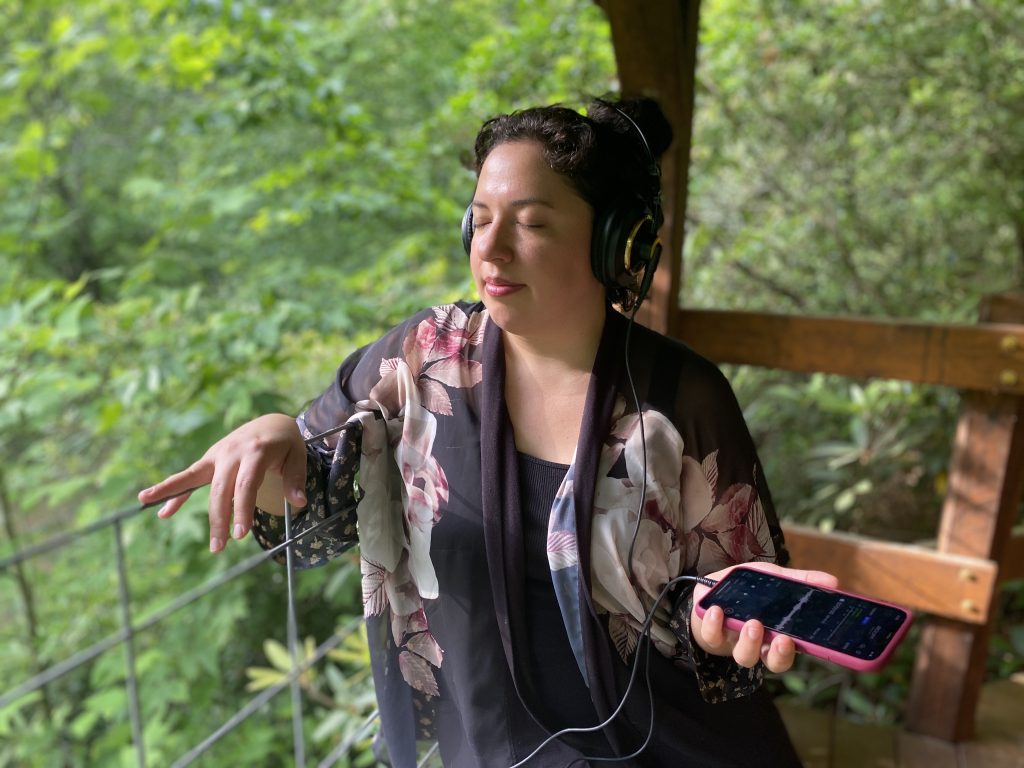 I also wrote three interstitial pieces for this podcast entitled "Multispecies Party", "Chance Ecologies and "Unintended Consequences" – more on those later when I make them available online! They play in between segments of the show to highlight different moods of the story being told.
About the podcast: "CREEP is a podcast that encourages us to lean in for a closer look at how insects, animals and plants are changing the environment, economy and health of our region in ways we never expected. Listen, subscribe and get to know some of nature's most fascinating, grotesque and mysterious members. Presented by WUNC in partnership with the North Carolina Museum of Natural Sciences."
Listen and subscribe to CREEP: https://www.wunc.org/podcast/creep